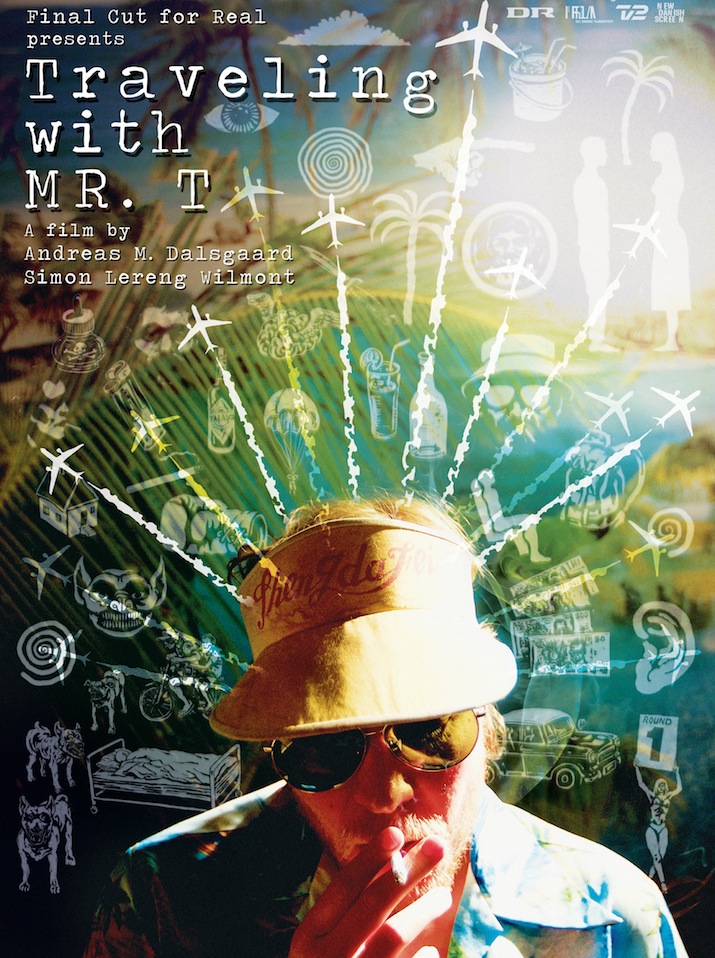 traveling with mr. t

THE STORY
Life. Art. Love. Pain. Nothing in Troels' life is small or easy. He dreams, thinks, and feels in capital letters. He's approaching 30, with very little to show for it besides a substantial talent for writing, and perhaps an even greater one for making chaos out of life. Born in a country where living is easy and success is mandatory, he dreams of escape. When Troels was 13 his mother fell ill with cancer. Troels spent his teenage years and early twenties with the imminent threat of her death looming above him. But just like his life, Troels' writing is chaos - incoherent fragments from a talented yet bewildered young man.

His successful, well-meaning friends take action and make him sign a contract. He is to finish his book "Traveling with Mr T" within one year. But his do-gooder friends have not considered the implications of Troels' literary idol being Hunter S. Thompson. A man who lived like he wrote, on the edge - and beyond.

Troels zealously throws himself at his work. The book is an autobiography about the young Troel's travels around the World to wrangle free from the force of his mother's illness. He hunts for happiness and release, surrounded by pain. His travel companion is the fearless Mr T, Troels' alter ego, a mix between Hunter S. Thompson and himself. His writing depicts portrait of a young man with a heavy load to carry. A lonely childhood spent in the shadow of his mother's impending death. Through his writing he can be seen, heard, and express himself. Here, the pain can be released.

But Mr T is taking power over Troels who sees pain and drunkenness as the keys to writing. The project that was supposed to help Troels find direction in his life, is leading him off track.

One Christmas, he feels the loss and despair stronger than ever. Eventually though, the anguish allows him to write about the most important thing, also the hardest - his mother's death. Out of the darkness grows the beginning of the book.

Then comes the sober awakening in the shape of a young woman; Louise. Troels falls in love for the first time. But like an undertow Mr T is dragging him back out again. A struggle between Louise and Mr T begins, between love and art, between peace and pain, between IKEA and the murky bars of Phuket. Can they co-exist?

This is a story about being human - tiny and big in one. About having no limits, yet being totally stuck. About dreams and identity, of letting go and being found. It is a story about going to the edge - and finding one's way back.

THE FILM
The filmic approach playfully balances on the edge between documentary and fiction, thereby both underlining and adding to the theme of the film. The two directors have filmed Troels for 4 years, capturing all his ups and downs, the defining moments, both the hilarious and the sad. This material will be combined with Troels' video diary where we get even closer, and animation that will bring life to Troels' text and inner universe in a compelling and humoristic way. The animation is done by the artist Carl Krull whose very distinctive style matches Troels' story and personality, combining darkness and humor, the grotesque and the beautiful. It will be subtly integrated into the filmed material, at times taking over completely. The story of Troels and the visual approach melt together.

The narrative is a coming-of-age story of a young man and an artist. The extensive material with an honest, raw authenticity of it, as well as fictional layers and strict narrative plot, makes for a film that touches not only upon the turbulent artist-life, but also upon the universals of necessity, identity and choice - being a human surrounded and dependent on other people, whether or not we want to.
PRODUCTION FACTS
Directed by: Andreas M. Dalsgaard & Simon Lereng Wilmont
Produced by: Signe Byrge Sørensen & Anne Köhncke
Editor: Janus Billeskov Jansen
Music composed by: Peder & Asger
Sound design: Reda El-Kheloufi
Supported by New Danish Screen, consultant Jakob Høgel.
Release: May 2013
AWARDS
Selected for CPH:DOX 2012
In Competition: NORDIC:DOX (special preview, not completed version)
CONTACT
General Inquiries
Producer
Anne Köhncke
anne(at)final-cut.dk